---
Sort by:
Top sellers
New
Price ascending
Price descending
Filter
---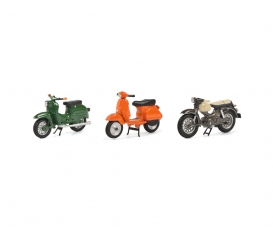 Motorcycle models
set w.3 motorcycles 2020 1:43
€29.99
A great addition to any model car collection to a scale of 1:43! The Schuco set of 3 motor scooters, consisting of a Kreidler Florett and the two-wheel classics, the Schwalbe KR51 and Vespa PX. Like their two famous originals, the two miniatures of the Schwalbe KR51 and the Vespa PX, even as models to the collector scale of 1:43, have a stable frame in metal, real rubber tyres and folding stands.   Warning! Not suitable for children under 14 years.
More
New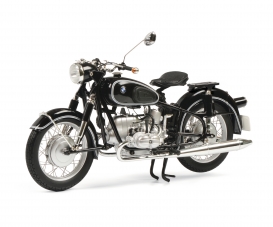 Categories
BMW R69S w.single seat 1:10
€79.99
"Its predecessor, the BMW R 50 S, was already becoming outdated when BMW introduced the new top model, the BMW R 69 S, in 1960. The R 69 S's 595 ccm3, air-cooled, 2-cylinder boxer engine produced 42 HP and, according to the BMW manual, enabled its proud owner to reach top speeds of 175 kilometres per hour when the rider was recumbent and 160 kilometres per hour when they were sitting upright. This made the R 69 S one of the fastest street motorcycles of the sixties. As the first motorcycle in BMW's motorcycle history, the R 69 S could also be ordered in an elegant ivory colour at the customer's request. Introduced in 1960 at a price of 4,030 German marks, over 11,000 units of the R 69 S had been sold before it ceased production in 1969."
More
New