---
Sort by:
Top sellers
New
Price ascending
Price descending
Filter
---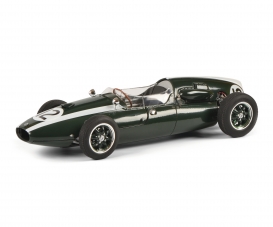 Categories
Cooper T51 #12 1:18
€129.00
The Cooper T51 was produced by the Cooper Car Company, which was founded by John Cooper in Surbiton, Surrey. The launch of this new vehicle heralded the beginning of the end for single-seater front-engined racing cars. Unlike previous Formula racing vehicles used by large factory teams such as Maserati, Ferrari, Mercedes-Benz and Vanwall, which were exclusively front-engined vehicles, the T51 was the first vehicle to feature a mid-engine directly behind the driver. In 1959, in addition to the Australian driver Jack Brabham becoming the Formula 1 world champion, the Cooper factory team also won the Constructors Championship for its outstanding performance. Third place was won by Stirling Moss, who also drove a Cooper Climax T51. The world champion Jack Brabham also won the British Grand Prix in Aintree, where he drove a Cooper T51 with start number 12. Driven by a 2.5-litre Climax 4-cylinder engine, the T51 was also used at the beginning of 1960 Formula 1 season. Although it was replaced by the T52 over the course of the season, the T51 still contributed to Jack Brabham's second consecutive victory and Cooper's successful defence of the Constructors Championship.   Warning! Not suitable for children under 14 years.
More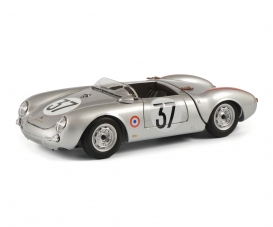 Categories
Porsche 550 Spyder #37 1:18
€149.00
Porsche started to develop its first racing car in 1952 at its headquarters in Stuttgart-Zuffenhausen. This culminated in the launch of the Porsche 550 Spyder, which was based on the specs of the Porsche 356. This mid-engined car was equipped with a lightweight metal chassis and sported a 1.5-litre, 4-cylinder boxer engine known as the 'Fuhrmann' engine. Weighing just 550 kg, the Porsche 550 Spyder helped the fledgling brand to develop its reputation as a manufacturer of lightweight, reliable and efficient sports cars. At the 24 Hours of Le Mans in 1955, the 550 Spyder was driven by the racing duo Polenski/von Frankenberg, who came fourth overall and first in the 1500 ccm vehicle class. Due to very high demand from racing drivers and well-heeled Porsche enthusiasts from the US, the 550 Spyder soon received approval for road use and could be ordered for 24,600 German marks at Porsche dealers.   Warning! Not suitable for children under 14 years.
More