---
Sort by:
Top sellers
New
Price ascending
Price descending
Filter
---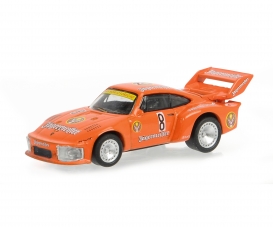 1:87 Edition
Porsche 935 Jägerm. #8 1:87
€9.99
  Warning! Not suitable for children under 14 years.
More
1:43 Edition
Mercedes-Benz Lo 2750 "Rennabteilung-Spezialwerkstätte", 1:43
€69.99
In the 1930s, the Mercedes-Benz Lo2750 was the medium-weight series in the Mercedes-Benz truck range. After Mercedes-Benz started, in 1934, to compete in grand-prix racing with its newly designed Silver Arrows, transport vehicles and workshop trucks were needed to make it relatively easy to reach the European race circuits like Monza, Donington Park, Monaco or the Nürburgring. Painted in the typical blue of the Mercedes-Benz Racing Department, the factory operated a whole fleet of lorries that toured from race to race. As well as flat-bed trucks transporting the Mercedes-Benz Silver Arrows types W25, W125, W154 and W165, well hidden under their pale coloured tarpaulins, the Racing Department had two workshop trucks in which any repairs and technical work required at the track could be carried out. The various racing transporters of the Mercedes-Benz Racing Department have now become an abiding part of motor racing history and Schuco dedicates high-quality and painstakingly detailed models to a scale of 1:43 to the two representatives of the 1930s.   Warning! Not suitable for children under 14 years.
More