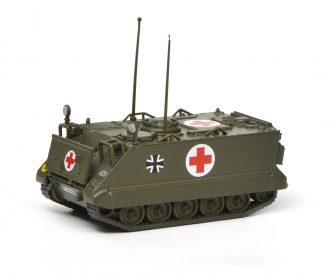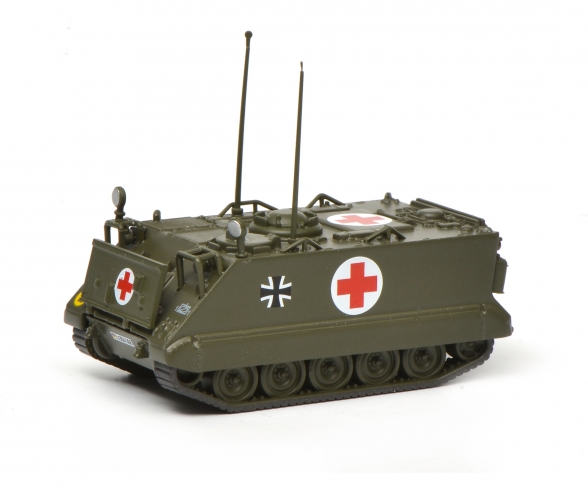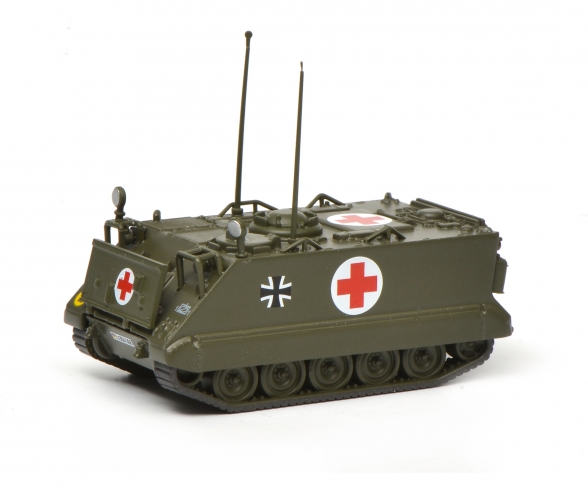 Quantity:
1
2
3
4
5
6
7
8
9
10
11
12
13
14
15
16
17
18
19
20
21
22
23
24
25
26
27
28
29
30
we will pass on the reduction in VAT to you with an automatic discount in the shopping cart.
Since the German arms industry was no longer allowed to develop its own tanks after the end of the Second World War, the German Armed Forces, after its foundation in 1955, initially purchased tank models made in America or Britain. Thus, the American M113, originally designed an armoured personnel carrier (APC), was also purchased in substantial quantities from 1962. It gradually superseded the ageing M39 model. In total, the German Federal Office of Defence Technology and Procurement (BWB) ordered more than 8,000 units of the M113. In its basic configuration, the M113 can float, whereby propulsion occurs in the water by means of its treads. It is also transportable by air and can be air-dropped. The German Armed Forces has deployed the M113 for almost 40 years in 18 different versions. The M113, happily called the "Jaffa crate" due to its construction, offered space for up to 11 soldiers and was gradually superseded by the Marten and the Fox from 1971. Schuco is going to produce a miniature model of this M113 to a scale of 1:87. Military models come with a metal body and chassis. As is expected of Schuco models, a number of key features have been reproduced exactly with the greatest attention to detail.
Warning! Not suitable for children under 14 years.
Period: Historic
Material: Zinc Diecast
Scale: 1:87
Frequently bought together
Frequently bought together