---
Sort by:
Top sellers
New
Price ascending
Price descending
Filter
---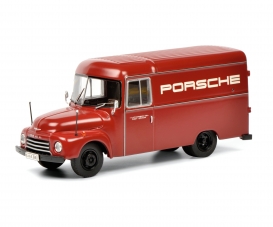 PRO.R 18
Opel Blitz 1,75t PORSCHE 1:18
€159.00
"Following the huge success of the 1.5 tonne Opel Blitz truck in the 1930s, in 1952 Opel launched a 1.75 tonne model to replace its pre-war predecessor. With its American-inspired design, the Opel Blitz was a true trendsetter in the history of German post-war trucks. Its 2.5 litre, 6-cylinder 58 hp engine helped the Blitz to reach a maximum speed of almost 100 kilometres per hour. Thanks to its sophisticated and extremely reliable design, the Blitz 1.75 T was used by the Deutsche Bundespost (German Federal Post Office), government authorities and the private sector, as well as the Porsche racing service. Almost 90,000 vehicles of this series were sold between 1952 and 1960."   Warning! Not suitable for children under 14 years.
More
PRO.R 18
VW T1 Continental Motors 1:18
€259.00
Under the motto "Race on Sunday - Sell on Monday", numerous so-called "Club Races" took place in the USA in the 1950s and enjoyed great popularity among those actively involved as well as spectators. In these races, motor-sportenthused private drivers were able to probe their driving skills and simultaneously push their mainly production-line sports cars to the limit, legally. The corresponding vehicle dealers also put on suitable transport vehicles in support of their customers' vehicles at race tracks like Laguna Seca, Eagle Mountain or Elkhart Lake. For example, Volkswagen and Porsche dealer "Continental Motors" of Fort Lauderdale in Florida operated an elegant and remarkable vehicle-trailer combination, consisting of an original VW T1 tractor unit and the associated trailer. Thus vehicles such as the Porsche 550 Spyder or the Porsche 718 Spyder were able to be transported.   Warning! Not suitable for children under 14 years.
More