---
Sort by:
Top sellers
New
Price ascending
Price descending
Filter
---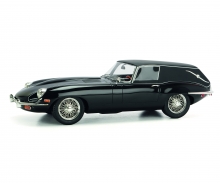 PRO.R 12
Jaguar E-Type "Shooting Brake" H&M, 1:12
€269.95
An E-type Jaguar converted into a hearse was the principal vehicular protagonist of the English cult film "Harold and Maude". This classic 70s film was released in 1971 and tells the story of 21-year-old Harold, from a wealthy background, who rebels against his mother. Harold is obsessed with death and so, in the film, his mother's gift of a brand-new E-type Jaguar is swiftly converted into a hearse. As the story unfolds, Harold meets the very sprightly 80-year-old Maude and together with her learns how to appreciate life. This unique limited edition production of only 250 "Hearse" E-type Jaguar models is dedicated to this unforgettable film and the unique hearse based on the legendary E-type Jaguar, which unfortunately gets destroyed in the course of filming. Schuco is going to produce a miniature model of this legendary Jaguar E-Type to a scale of 1:1 in the PRO R line. This line, consisting of resin as the material, stands for exceptional and highly filigree small series models. By means of this highgrade model material, it is possible to produce very rare and exotic exemplary vehicles in perfect quality and also in low and exclusive production runs.   Warning! Not suitable for children under 14 years.
More
PRO.R 12
Mercedes AMG "Vision GranTurismo", 1:12
€269.95
Mercedes AMG Vision Gran Turismo. Extreme proportions, sensuous contours and precise graphics coalesce in a vehicle that makes breathtaking performance come alive. That's how this concept car is described on Mercedes-Benz's homepage. And this is the most apt way of describing this vehicle which was launched at the Los Angeles Autoshow in 2013. The Mercedes AMG Vision Gran Turismo was designed as a visionary super sports concept car for the Gran Turismo 6 Playstation racing game. As a finely detailed limited edition in the increasingly favoured 1:12 large scale, it is an extremely decorative single item or a great addition to any collection of sports- and Mercedes-Benz cars.   Warning! Not suitable for children under 14 years.
More