---
Sort by:
Top sellers
New
Price ascending
Price descending
Filter
---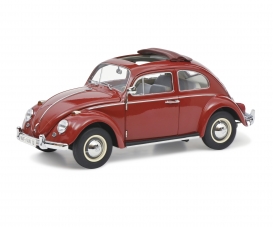 1:18 Edition
VW Käfer Faltdach "1963", red, 1:18
€139.00
In the course of its 65 years in production, the Volkswagen, developed in the 1830s by the Stuttgart design office, Porsche, under government contract, grew to be the most produced car in the world, overtaking the previous record holder, the "Tin Lizzy" Ford model T. The most outstanding technical characteristics of the "Beetle" were its streamlined shape, revolutionary for its time, its air-cooled 4-cylinder boxer engine, its novel platform frame and its newly developed torsion bar suspension, which, over the years, underwent a continuous development and improvement process. Documentation shows that, from 1948 to 1974, no less than 78,000 changes were made to the VW Beetle. So said the former Managing Director of the Volkswagen plant, Heinrich Nordhoff, in 1954 on the occasion of a VW Beetle meeting: "We are convinced that salvation lies not in new designs, however bold and magnificent they may, but in the thorough-going and never satisfied further development of even the smallest details to maturity and perfection, which indeed brings the really surprising success". This is also true for the completely newly developed, 1:18 scale metal model of the 1963 VW Beetle, which is captivating with its multitude of painstaking details, making this model an enrichment for every VW beetle and model car collection.   Warning! Not suitable for children under 14 years.
More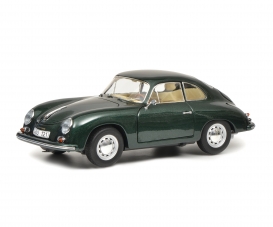 1:18 Edition
Porsche 356 A Carrera Coupé, green metallic, 1:18
€129.00
"To begin with, I looked around but could not see the car of which I dreamed. So I decided to build it myself." Based on this famous quote from Ferry Porsche, there appeared in 1948 the first mass-production sports car of the Porsche brand - the 356. During the time of its production, from 1948 to 1965, more than 76,000 356s were produced in the different variants such as coupé, hardtop coupé, convertible and speedster. With the 356, Porsche established its reputation as a producer of high-quality, elegant and highly efficient sports cars. The Porsche 356 is now one of the sought-after sports car classics and, whether as a model or the original, is an inspiration with its timeless, attractive design. Schuco is going to produce in a limited edition of 1000 pieces a miniature model of this Porsche 356 A Carrera Coupé to a scale of 1:18. Just like the other models of the Schuco Edition 1:18, the Porsche 356 A Carrera comes with many lovingly crafted details, such as opening and closing doors, a front opening hood and the opening bonnet under which the highly detailed replica of the "Fuhrmann engine" is accommodated.   Warning! Not suitable for children under 14 years.
More
1:18 Edition
BMW Isetta WINTER SPORTS 1:18
€99.00
The new Mercedes-Benz SL series debuted at the Geneva motor show in March 1963, and the 230 SL is now referred to as the "Pagode" model due to its distinctive hardtop roof. Its successor, the famous 190 SL, was the first SL series that consciously incorporated numerous safety features. It was the first time that an SL model had offered a reinforced passenger cell, crumple zones, radial tyres, disc brakes and also optionally available seat belts. Often hailed as a design icon today, roughly 50,000 models of the "Mercedes-Benz Pagode" were manufactured during various stages of development between 1963 and 1971, now making it a truly sought-after classic car that fetches high prices.
More
New